Overview
In Italy, the intersection of sport and politics is amongst the most poignant in the world. It is the land where ultras were first born and is home to one of the few top leagues in the world where the nation's leaders have had significant influence over the success of the domestic league and national team alike. Since Mussolini came to power and fascism rose to prominence, football has offered a lens into the political psyche of the nation. Not only does Italy's politics influence the Azzurri's style of play on the pitch, but also football has had an immense effect on the nation's political landscape. Italy's deeply-rooted regionalist perspectives creates one of the most intense, compelling, and attractive footballing environments in the world. At the same time, Italy's national team, Gli Azzurri, have managed to build cross-regional bridges in ways no other aspect of Italian society can. In a rather unique manner, Italy has managed to use football to forge a national identity and bring together a nation that has historically been divided by geography, wealth, and social class.
Mussolini's Football Revolution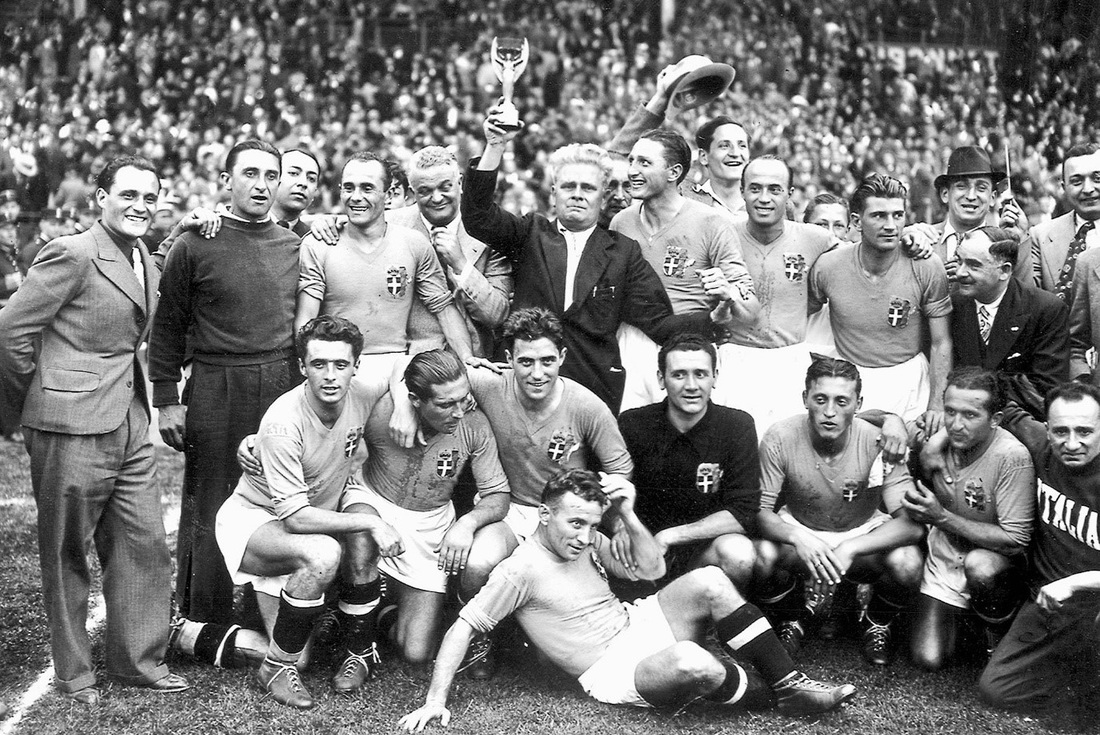 Across the world and throughout history, football has been used as a tool to advance political agendas and build support for movements. Few leaders understood this as well as Benito Mussolini, who took power and became Italy's Prime Minister following his 1922 March on Rome. By 1926, Mussolini had already identified many of the problems that existed in the 'disjointed' Italian national team.[1] He then directed his government to work towards reforming and rebuilding the nation's footballing infrastructure. Although football had already become a burgeoning aspect of Italian society, Mussolini recognized the game's unique power to bring people together regardless of their differences. At the same time, with the Second World War approaching, he also recognized the political upside associated with the entire nation rallying behind one team and one common identity. A divided nation is not one that will survive a long, arduous conflict, and Mussolini viewed football as one of the primary mechanisms of bringing people together before the war began. This would be a tall task in any context, but in Italy, a country riddled with regionalism and geographic rivalries, this challenge would require significant government backing to create public investment in the program. Mussolini did exactly that, first by focusing on reforming the domestic leagues as a means to foster young Italian talent before then moving on to reform Gli Azzurri, Italy's national team. After only eight years, Italy wasn't just hosting its first-ever World Cup, but it was also winning its first-ever World Cup, too. 
Corrupt Calcio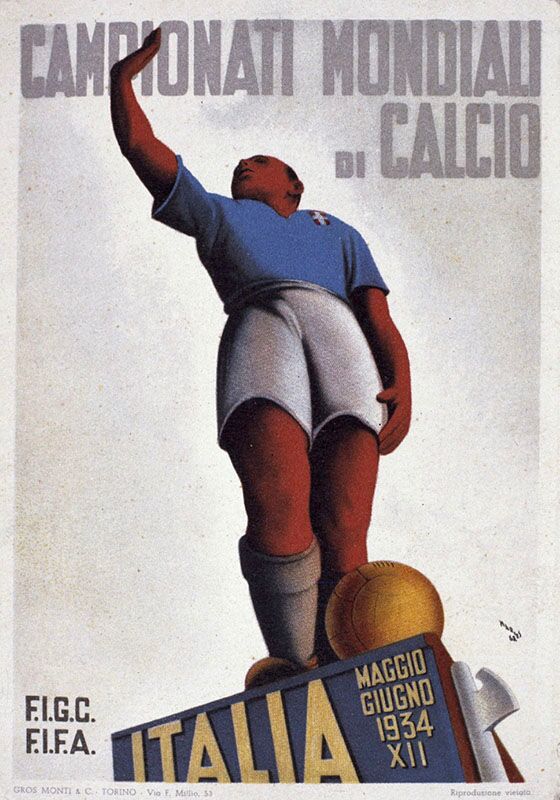 Despite their victory, the politically dubious nature under which World Cup hosting rights were given to Italy in 1934 became more and more clear over time, eventually leading to the international community criticizing Mussolini and his Fascist government. While these complaints may have fallen on deaf ears, Mussolini's aggressive corruption remains the sole reason Italy was even able to win the 1934 World Cup in the first place. Although the Italians had put together a good squad, it was only world-class due to the ways in which both the team and the games were manipulated, all at the hands of Mussolini himself. As a man who was rarely able to let up control or power in a situation, Mussolini struggled to just sit and watch Gli Azzurri without taking any action. When it comes to the impact he had on their actual matches, unconfirmed reports from the summer of 1934 say that the night before Italy's semi-final against Austria, Mussolini had dinner with the referee.[2] The next day, Italy would then go on to win 1-0, scoring a suspicious goal after 'the Austrian goalkeeper [was] pushed blatantly'.[2] The same referee was then put in charge of the final match and was even supposedly invited to Mussolini's VIP box to celebrate Italy's World Cup victory. Even though each team the Italians played would complain after losing in suspicious circumstances, Mussolini doubled-down on the themes of strength and Italian dominance as the World Cup ended. The Closing Ceremonies were awash with pro-Italian chest-thumping and featured the presentation of La Coppa del Duce, a trophy awarded to the Italian players that was 'over six times the size' of the World Cup trophy.[1] As a whole, the opportunity to present Fascist Italy on the world stage for the first time pushed Mussolini to do whatever he could in order to turn a sporting event into a nation-building propaganda project. When looking at his personal involvement in ensuring the success of Gli Azzurri during the 1934 World Cup, it becomes evident that Mussolini highly valued the benefits that a successful national team would bring to Italy as he sought to build a cohesive national identity that emphasized strength and winning at all costs.
A New Italy, Reborn through Football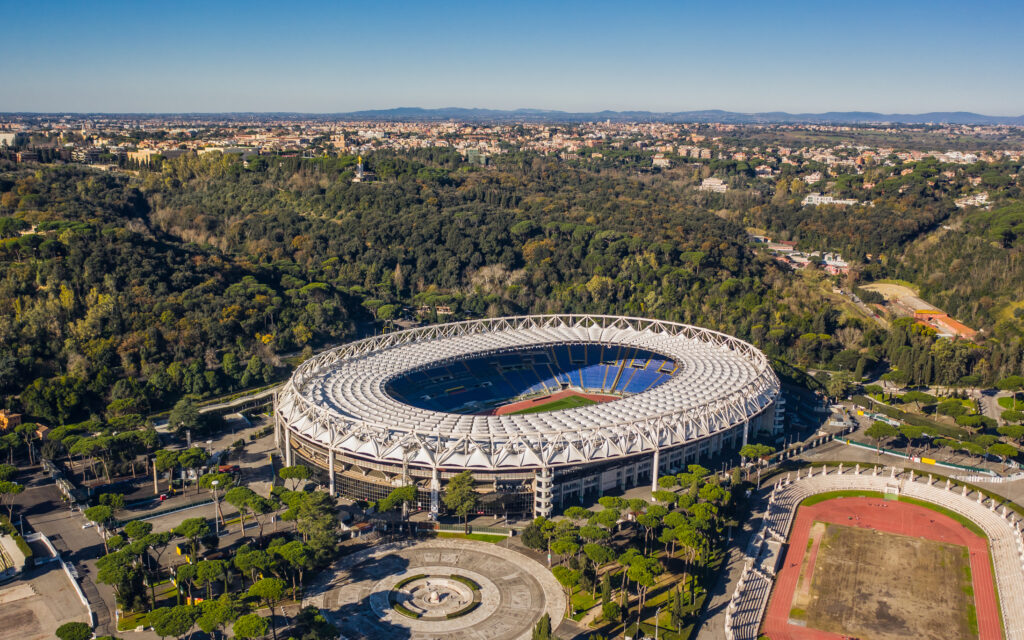 For Mussolini and Fascist Italy, the first World Cup title in 1934 symbolized the nation's entrance onto the global stage and signaled their ability to compete with the most developed nations in the world. In a similar fashion to Nazi Germany's 1936 Olympic Games, Mussolini was motivated to host the World Cup purely for political gain. It offered Mussolini an opportunity to show off the might of the Fascist industrial machine, which managed to build seven brand-new stadiums 'filled with Fascist images and symbols'.[2] These stadiums also provided Mussolini with venues from which he and his Fascist Party could host events to demonstrate support for their agenda and spread the message of Fascism across the country. In fact, to this day, these same stadiums continue to offer the far-right with a space from which they can promote their political propaganda, evidenced by recent events such as the '2017 case of stickers at the Stadio Olimpico (Home of S.S. Lazio) that portrayed Anne Frank wearing an AS Roma shirt'.[3] Some scholars attribute events such as these to the fundamentally Fascist history of clubs like Lazio, while others simply believe the far-right is no more likely to make an appearance at one of these clubs in comparison to a club which has no historic connection to Fascism or the far-right.[2] Regardless, the fact that elements of Mussolini's fascist ideology continue to manifest themselves in Italian footballing culture is a testament to how impactful Mussolini's football revolution truly was on the fabric of Italian culture. If it were not for Mussolini, and in particular his efforts to expand the game of football, it is hard to imagine what Italy's modern-day identity would be. Despite this, it would certainly be welcome to most fans these days to see far-right factions removed from the sphere of politics and football. According to the Harvard International Review, the fascist resurgence in 1990s Italy saw the re-adoption of many Mussolini-era tactics from far-right ultras groups looking to overturn the governments' 'monopoly on violence' and even cause a 'fascist coup'.[4] The violence associated with these groups' resurgence has led to a steep drop in attendance at Italian football matches and has even led to a ban on away fans as a means of limiting the tension within stadiums. The resilience of the footballing culture brought about by Mussolini's footballing revolution in the 1930s has led to the continued pervasiveness of physical and sentimental symbols that represent fascism, Italian hyper-nationalism, and violence.
Playing Fascist Football
The influence of Mussolini's new fascist government and pervasive fascist policies did not stop at the pitch's edge, but rather had significant influence over the team's identity and style of play. For starters, a key aspect of the team were the oriundi. These players are immigrants to Italy who come from Italian descent – the most common country from which oriundi would come from was Argentina. In the 1934 World Cup winning squad, three of the most impactful players were oriundi from Argentina, sparking some debate over how 'Italian' the team truly was. Given that Mussolini built this team to be an example of Italian hyper-nationalism, it is incredibly ironic that some of the team's most influential players were foreign-born. Though, at the same time, the presence of these players in the squad 'fitted neatly with the fascist ideal of an expansive, colonial Italy that naturally included a thriving diaspora'.[1] Despite the promotion of this ideal, it has been said that Mussolini personally discriminated against these individuals, denying them access to winner's medals and ridiculing them for their place of birth.
Tactically, the manner in which Italy set the team and executed their game-plan mimicked many of the typical fascist traits that Mussolini was attempting to instill in the Italian public. Vittorio Pozzo, the team's manager, emphasized 'effort, sacrifice, and unity' as the defining characteristics of Gli Azzurri.[1] His training sessions were notoriously brutal and his side was known not for their finesse or skill, but rather their 'combativeness and reactivity'.[1] Players who were particularly skillful were forced to put their creativity to the side 'for the good of the collective'.[1] This emphasis on 'defensive resiliency' exemplified the patience, discipline, and steadfastness of not just Gli Azzurri, but Mussolini's Fascist Italy as a whole. When looking at the ways in which the Italian team both played and set it's lineup, it is very evident that both Mussolini and his fascist ideology had significant influence over the development of Gli Azzurri into one of the most iconic footballing programs in the world.
Football Can Craft Identity
Now, just a few months away from the 100-year anniversary of Mussolini taking power in Italy, it is undeniable the lasting impact that his fascist policies and ideologies have had on Italy and it's connection to its national football team. The fragmentation and hyper-regionalization that permeated across Italy before the Unification still exists to some degree today, though the cultural unification that Italy has experienced comes largely as a result of the unifying power of football. While Campanilisimo still creates a strong sense of local pride as opposed to national pride, Gli Azzurri create a rare opportunity for Italians to unify under a shared identity and flag.[2] Although increased nationalism in the North of Italy has driven a number of individuals to virtually renounce Gli Azzurri as their team – in some cases even rooting for them to lose – it must be noted that international tournaments are one of the few instances when 'Italian flags suddenly spring up on windowsills and on rooftops' across the nation.[5] This willingness to unite under one flag is not solely the result of Mussolini connecting nation-building efforts with the success of Gli Azzurri, but the work he did to build up the national team, even though it was for his own personal political reasons, undeniably has had an effect on increasing support for the national team and Italian identity.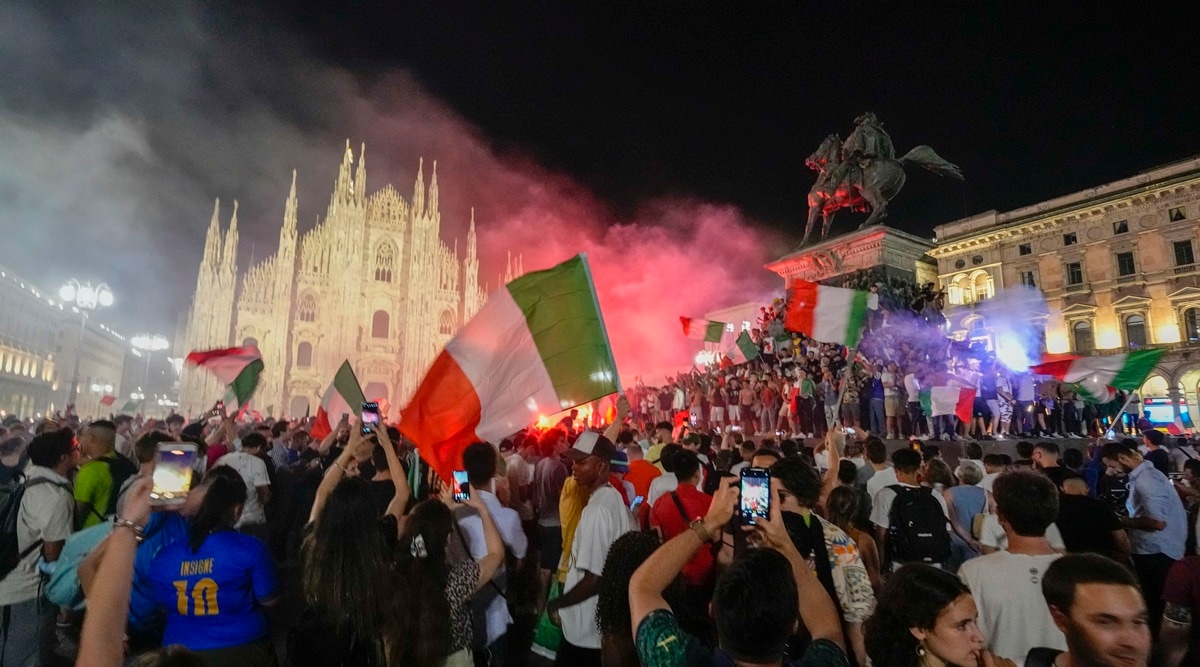 Unfortunately, Gli Azzurri are currently going through their roughest patch in history after failing to qualify for back-to-back World Cups for the first time in team history. The rise in Italian nationalism certainly cannot only be attributed to the failures of the national team, but it is interesting to think about what the current dynamic would be if Italy qualified for World Cup 2022 or World Cup 2018. In conjunction with COVID-19 isolation that surely amplified feelings of de-centralization and regionalization amongst Italians, being united under one common banner could only do the nation good. After their European Championship 2020 victory over England last summer, Gli Azzurri showed the country it could pick itself up, dust itself off, and surpass the rest of Europe'.[6] Even in the North End here in Boston, Italian-Americans flooded the streets in celebration. Now, more than ever, Italy needs Gli Azzurri to find it's identity again and undergo a new footballing revolution that reflects modern-day Italian values and endeavors to unite a divided country under Il Tricolore.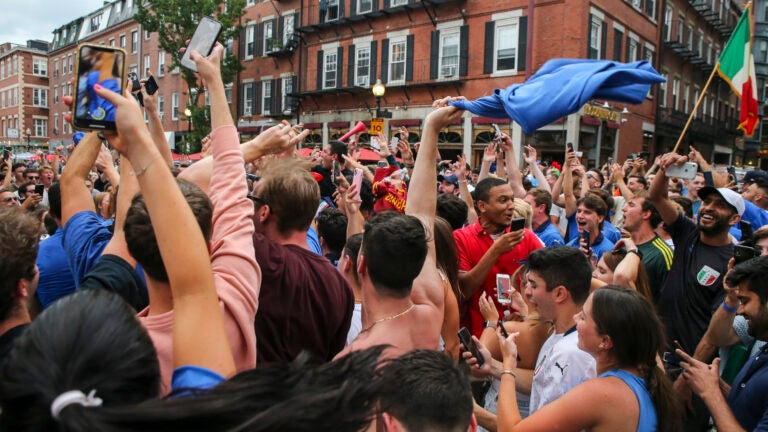 Works Cited
[1]https://thesefootballtimes.co/2015/07/20/the-relationship-between-mussolini-and-calcio/
[2]https://www.theversed.com/72603/politics-in-italian-football-mussolini-regionalism-and-intercity-rivalries/#.oeNaDGgC1e
[3]https://www.eurozine.com/football-fascism-fandom-modern-italy/
[4]https://hir.harvard.edu/fanaticism-and-the-ultras-movement/
[5]https://italianjournal.it/civil-games-how-the-sport-of-soccer-reflects-the-state-of-italian-nationalism/
[6]https://www.nytimes.com/2021/07/11/sports/soccer/italy-wins-european-championship.html